Looking to Make Your DIY Auto Repair Project Go Off Without a Hitch?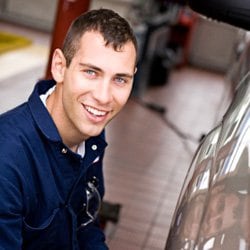 Explore a Discerning Mechanic's Selection of Car Parts and Components at Our Blythe, CA Ford Dealer
Here at Larry Green Ford, we know what it's like to always have a new automotive project in mind, maybe even with a customization job in the mix. After all, when it comes to the Ford experience, there's ever a new horizon across which to head. But that shouldn't mean having to hike through Ehrenberg to Quartzsite or all the way up to Parker, AZ in search of an auto parts selection to go the distance. Luckily, you'll find one right here at our on-site parts center in Blythe, CA.
What's more, we know it's one thing to have your vehicle serviced with our highly and expertly trained car repair technicians. It's quite another, however, to flush engine oil, change a filter, replace a wiper blade, swap out a battery, or take care of other car service needs on your own. That's why our friendly and knowledgeable specialists remain on hand and delighted to help you find the genuine car parts and components uniquely suited to your new Ford or another off-brand car, truck, or SUV. Should we not have the one you're looking for in stock, rest assured that we can locate it for you. Just take a moment to fill out our Parts Request form, and we'll get to work.
Looking to learn more about what's available to you in our extensive inventory of auto parts here in Blythe? Feel free to get in touch with us here at Larry Green Ford, and we'll be happy to talk shop. As always, you're invited to stop by and see us for an in-person consult, too, here at our 410 E. Hobsonway showroom. We look forward to helping take your do-it-yourself project that extra mile!